October 20 - October 20, 2018, 1:00pm - 4:00pm
Advance registration for this class is required. Please visit our website for more details!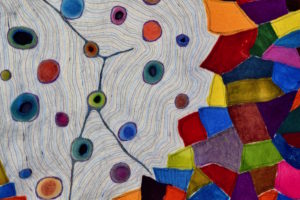 The Fiber Focus Series is presented in partnership with ahha Tulsa.
Discover the basics of wet felting in a friendly setting. With instruction from artist Taylor Painter-Wolfe, you'll arrange and layer wool and other materials to create a piece of felt art.
About the Instructor
Fiber artist Taylor Painter-Wolfe has exhibited her work in institutions across the region, as well as in California and Washington State. In addition to working in her Tulsa studio, she teaches visual arts at Lee Elementary in Tulsa.
Class Cancellation Policy
Programs and dates are subject to change. Ahha Tulsa reserves the right to cancel programs due to low enrollment or other conflicts. If cancellation occurs, registered participants will be contacted by ahha staff and will be refunded the full tuition. If another session is available, we will be more than happy to transfer your enrollment to that session.
With inclement weather always possible, ahha reserves the right to close and cancel any scheduled classes and programs depending on severe weather conditions. If the ahha Hardesty Center is closed, a notice will be posted on our website. You may also call 918-584-3333 to confirm.
Refund Policy
Beyond cancellations, no refunds or exchanges.
Where:
Ahha Tulsa
101 E Archer St, Tulsa, Oklahoma 74103